Happy New Year, my lovelies! It's January on the Magothy, and you know what that means (or maybe you don't): the much-awaited re-opening of the Olina Museum in the Printer's Quarter. Nagspeakers have been waiting five years for the Olina to swing wide its doors after the destruction of the Walker Folkways Wing in what has been variously described as an instance of ball lightning, an act of arson, and the last desperate act of a psychotic board of directors. But whatever the cause of the incineration, the Olina opens tomorrow, January 15th, with a brand-new group of featured exhibits, including a few surprises that even your humble correspondent wasn't able to ferret out!
January 15-March 15: Urban Wildnerness: New Views of the Feral City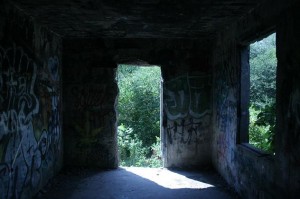 We here at the NBTC are particularly excited about this, because our very own occasional correspondent, Kate Milford, will have a few pieces on view–and these are the first of her photographs to ever be exhibited. Congratulations, Kate. Now, get a move on that article you've owed me since November.*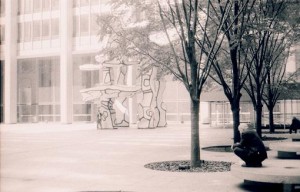 January 15-February 29th: Art in the Attic: the Mysterious Mathematickal Papers of the Water Trolley Building
This is another exciting one. Last year an urban explorer** happened upon a crate of what looked at first glance*** to be nothing more than a box of crumpled scrap paper. On further examination, however, it revealed itself to be a cache of elaborately folded paper sculptures, varying in complexity from things like a traditional paper fortune-teller on up to a two foot-tall humanoid figure believed to be a representation of the beloved "Pantin" character from the classic children's Troublewit Tales. No attributing marks or identifying writings were found with the paper art, and both the identity of the creator as well as the approximate time of the works' creation remain a mystery.
January 15-July 15: The Return of the Old Iron Project
Ah, well, it wouldn't be a proper Nagspeake museum opening without an exhibit to celebrate our beloved Old Iron. The Old Iron Project is an ongoing collaboration between the City University Ferroculture Department and various local artists working in different mediums to visualize the life of the city's most famous oddity. (Reservations recommended for the opening week.)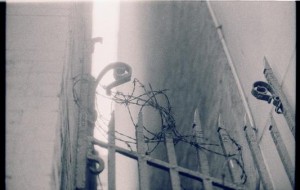 The Olina Museum and Distillery
34 Vey Street, Printer's Quarter Tuesday-Thursday 10-7 Friday teatime only Saturday and Sunday 10-8
*I do not owe Hallie Moxton any articles. I do not know what the hell she's talking about, as per usual.–KM
**That was me. Hallie declined to accept the piece I wrote about it at the time, claiming that "nobody gives a tootle's caboose about old origami, and stop trespassing with NBTC credentials in your purse because we are not bailing your butt out again."–KM
***Read: at Hallie's first glance.–KM)