Love the NBTC? Want to work here??
Well, you can't. Or rather, you can't work at the NBTC, because between Kate and Miranda we have plenty of people to get our coffee and make sure our paperclips are all perfectly flat with the loops all exactly in line. (Because nothing makes inter-office correspondence less professional than bent-up paperclips, as everyone who's ever read Cransill's Rules of Civilized Inter-Office Correspondence knows.)
But, in a shocking turn of events that no one, certainly not our landlord, could have foreseen, you can work here in the Historic Kitmillick Building, just one floor below the NBTC's headquarters! Yes, it's true, the entire second floor has opened up for immediate occupation, and I'm assured by a guy I once dated who's been assigned to the investigation that the body found in the dumbwaiter was absolutely positively not the victim of foul play, so there's no need to worry about that.
Just think of it! The Kitmillick Building, which was the site of so many historic Nagspeake events!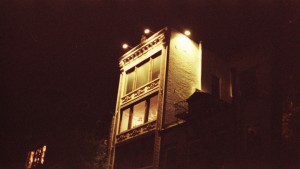 The basement that housed the presses that printed the subversive broadsheet Nettles for two weeks back in the days of the Ilford-Mapp Riots! The boiler room that was venerated as an incarnation of Deep Blue, the window where local tradition says that with the right lens and the right light you can see into the great hall at the Shutter Club (and which has been shattered by random sniper fire three times–probably totally coincidentally, though, and anyway, that window's on the fifth floor), and of course, the dumbwaiter our loony downstairs neighbor, Gerald Filiberton, evidently thought was a space elevator (I gather this is the only explanation the police have come up with for why anyone would climb into a dumbwaiter armed only with a supply of beef jerky, Remembrance of Things Past in six hardcover volumes, and a C-PAP plugged into a hundred feet of extension cords, and then remain there for two weeks wearing a fishbowl on his head and wasting away).
Best of all, since its suspected Drift to the west side of Spanner Street, the Historic Kitmillick Building is located on one of the most prestigious streets in the Printer's Quarter, the home of Nagspeake publishing since time immemorial! If you're looking for the perfect place to start your very own subversive broadsheet or possibly an online 'zine with a clever alliterative name, this is the place for you! But act quickly–a body in a dumbwaiter isn't going to keep tenants away from this prime real estate for long!