Nagspeake boasts several film houses, one of which is guaranteed to be showing exactly what you're in the mood for. If you're looking for first-run films, your best bet is the Tenefort 5-Plex in Bayside, but for more adventurous souls there are plenty more options to explore–you'll find some of them below!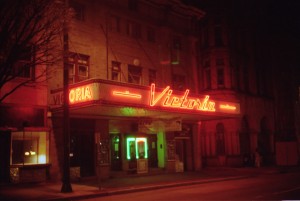 For classics and a selection of more recent "art" films, head to the Melies Orphic, a classic proscenium designed and built in 1915 by Holtz Winterfowl (great-grandfather of the photographer Ellie Winterfowl). It is considered to be one of the architectural treasures of Nagspeake, despite having been built, with a shocking lack of foresight, on an anchored barge about a mile out into the Magothy Bay. Shuttles to the Melies operate on the half-hour from Flotilla.
The Maltese Cross was once a church on the outskirts of the Printer's Quarter. It was converted into a theater towards the middle of the last century. Buy tickets in advance and bring a cushion; the whole building was hewn out of a single, giant piece of quarried limestone and the pew seating is miserable.
The Drunken Screw in the Quayside Harbors was named after a mechanical camera component. It screens exactly the sort of films it sounds like it should. On the other hand, the Drunken Screw Microbrewery has been crafting award winning beers for twenty years and currently serves twenty-four varieties out of the attached Post Cafe.
The Genevint, the small screening room at the Shutter Club Mansion, shows occasional films; mostly independent, experimental, and often with a heavy emphasis on in-camera photographic techniques.